Description
Created for Connection: A Sabbath Supper Club Guide
Six days a week, we live under the tyranny of time as we exhaust ourselves in the pursuit of making a living and striving to fulfill our family and work commitments. But this is different. On the 7th day, we rest from the daily grind and remember, celebrate, and experience the blessings of creation, the joy of relationships, and the freedom that comes with God's redemption through both first redeemer Moses and second redeemer Messiah Yeshua (Jesus).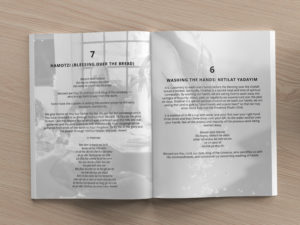 Ultimately, God created Sabbath to lead us to abundant life. The Jewish philosopher Achad Ha-Am once said, "More than Jewish people have kept the Sabbath, the Sabbath has kept the Jews." This statement is the absolute "emes," or truth. Sabbath is one of the secrets as to why Jewish people have not only survived in great times of peril and persecution but have thrived collectively.
The Sabbath and Shabbat may be rooted in God's history and covenant with Israel, but it was never meant to be only for Jews: it preceded the giving of the Torah and goes all the way back to days of creation. A principle that is woven into the fabric of God's design for all people and is the source of great blessing for all who follow Him.
Learn More: an excerpt from The Chosen Unveiled Episode Two
The digital download version of this product is copyrighted material made available to you for your personal use only. You may download the document and create one physical copy for your use. You may not copy or reproduce or distribute either download or a physical copy of the download.